If you or someone you know is feeling hopeless or overwhelmed, or if someone you know is in danger of harming themself or others, please seek emergency medical services, or call or text 988. 988 is confidential, free, and available 24/7/365.
Anyone in Cook County can also call NAMI Chicago's Helpline, 833-NAMI-CHI (833-626-4244). The Helpline is a free and confidential resource that provides a listening ear, guidance and connection to the right mental health and social service resources, over the phone. The Helpline refers community members to over 700 resources and is open seven days a week.
CCDPH is committed to building and supporting thriving communities. In January 2023, we launched a year-round campaign called "Here to Hear You," in partnership with NAMI (National Alliance on Mental Illness) Chicago, to remove the stigma often associated with identifying and seeking help for mental health issues. Here to Hear You reminds Cook County residents they can thrive at any stage of their mental health journeys and that they are not alone in the process.
Make your mental health a priority. Meet our mental health partners.
Mental health is a part of overall health – mind, body and spirit.  We are encouraging all suburban Cook County residents to prioritize their own self-care and mental health. Below is a list of trusted community partners offering mental health and wellness support:
Life be Life'n, but you are not alone (a conversation with Black and Hispanic men)
Cook County Department of Public Health opens a forum for Black and Hispanic men to courageously discuss suicide prevention and resources. Watch Now.
Knowing the signs and symptoms that may indicate there is a mental health issue is key to knowing when to seek help for either yourself or someone close to you:
Eating or sleeping too much or too little
Pulling away from people and things
Having low or no energy
Feeling numb or like nothing matters
Having unexplained aches and pains
Feeling helpless or hopeless
Smoking, drinking, or using drugs more than you should
Feeling unusually confused or forgetful; on edge, angry, or upset; or worried and scared
Fighting with family and friends
Unable to get rid of troubling thoughts and memories
Thinking of hurting or killing yourself or someone else
Unable to perform daily tasks like taking care of your kids or getting to work or school.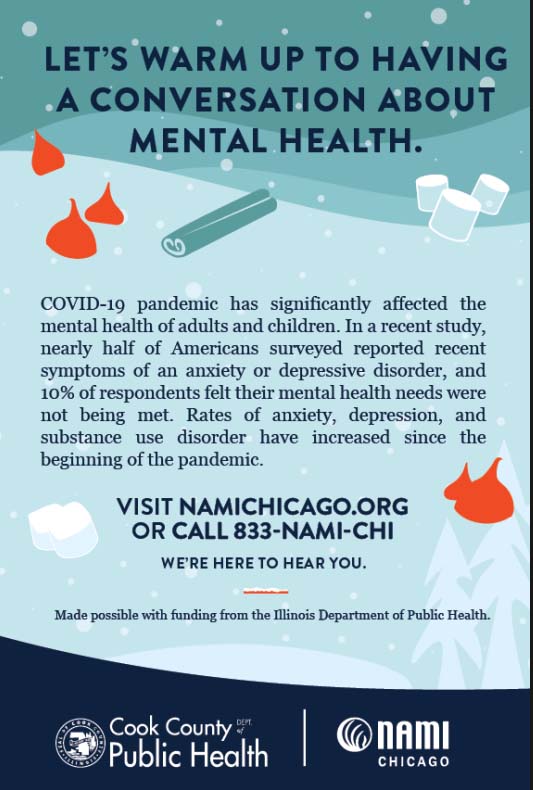 Updated December 1, 2023, 3:53 PM