Deaths from opioid-involved overdose are preventable. There is a medicine that can reverse opioid-involved overdose. It's called naloxone. Learn more about where to get free naloxone and other resources below.
Understanding the Epidemic
Learn more about opioid-involved overdoses in suburban Cook County through the Interactive Opioid Data Dashboard, the annual Joint Reports, and the Monthly Reports under the CCDPH Opioid Reports sidebar.
There were 487 opioid-involved overdose deaths in suburban Cook County in 2020, a 36% increase from 2019. 83% of these deaths involved fentanyl. For more information, please click on the CCDPH Opioid Overdose Shiny App link in the sidebar.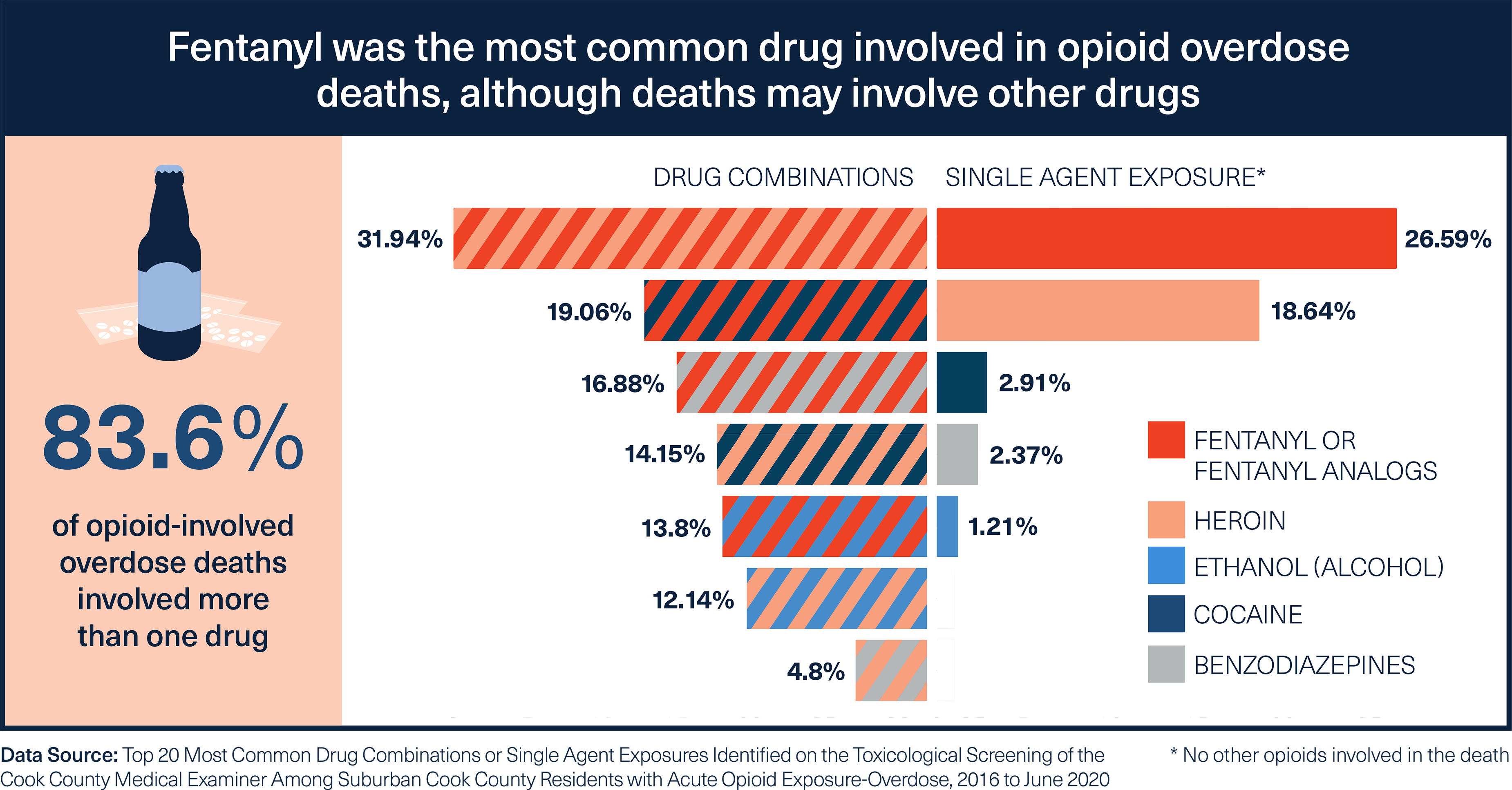 Opioids are a family of drugs related to opium, including heroin, fentanyl, morphine, codeine, and others. While heroin is illegal, other opioids are legal and available by prescription, usually for the treatment of pain. Opioids are effective and safe when taken in the appropriate doses and for short periods of time. However, they may produce a feeling of euphoria and can be misused for this purpose. Even when used as prescribed, their use can lead to tolerance, dependence, and potentially overdose and death.
Preventing Opioid-involved Overdose
CCDPH is excited to announce that we are training and distributing naloxone kits to community-based social service organizations in suburban Cook County.
Naloxone is a medication designed to rapidly reverse opioid overdose. It is an opioid antagonist—meaning that it binds to opioid receptors and can reverse and block the effects of other opioids. It can very quickly restore normal respiration to a person whose breathing has slowed or stopped as a result of overdosing with heroin or prescription opioid pain medications.
Community-based organizations and providers can view CCDPH's online naloxone training at this link and can also request in-person training at this link.

Community-base

d organizations and providers can 

request naloxone

 by

 complet

ing

 

th

is

 form

. 

Community based organizations will be prioritized based on service area, community need, and/or a recent rise in overdose cases in the population served. Training on naloxone administration must be completed by the organization prior to requesting and receiving naloxone.

Community partners that have requested naloxone in the past and need to replenish their supply can request a refill 

at this link

.

 

Law enforcement agencies that are interested in receiving naloxone through CCDPH's 

program

 

can request naloxone at

this

link

. Law enforcement agencies in underserved areas of suburban Cook County will be prioritized.

 
Are you a law enforcement agency looking to report an overdose reversal? Please click here.
Are you a community-based organization looking to report an overdose reversal? Please click here.
For more information and reports on opioid overdose in suburban Cook County, please see the sidebar on the right-hand side of this page.
Updated May 26, 2022, 12:19 PM